Working towards a sustainable energy future
Industries, utilities and communities are looking for new ways to harness renewable power, bring electricity to remote areas and prepare for climate change.
We believe the micro grid is one way forward in creating an innovative and sustainable energy future, to enable our communities to thrive.
What is a micro grid?
A micro grid is a localised energy grid with control capability, which means it can disconnect from the traditional grid and operate autonomously.
It generally operates while connected to the grid, but importantly, it can break off and operate on its own using local energy generation in times of crisis like storms, power outages or for other reasons.
WEL can use its own on-site micro grid.
If there is a significant power outage in the main network, the micro-grid can power WEL's site load continuously for approximately 24 hours. That way, we can keep our servers and control room operating.
Renewable energy micro grid projects can include distribution networks, Battery Energy Storage (BESS), hybrid diesel generators, solar PV, wind turbines or other types of renewable generation.
Find out more
Our Micro Grid
We've developed our own micro grid on site at our Hamilton premises. 
There are four components:
traditional network supply.
141kW of solar generation.
a 150kVA diesel generator.
a 91kWh Battery Energy Storage System.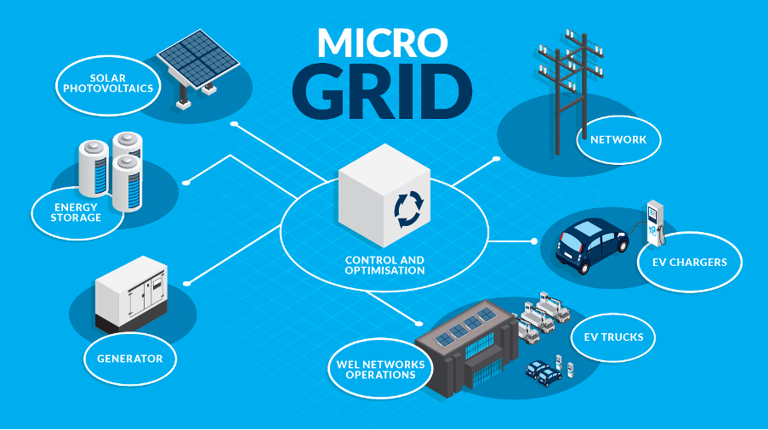 The Benefits
Site Energy Consumption Reduced
The micro-grid primarily harnesses solar power for utilisation in reducing the WEL site energy consumption from the main grid. It does this in two ways;
Solar generated electricity is used directly to power the building during the day.

Solar generated electricity is used to charge the battery, so that the battery can then discharge the stored energy at a desired point in time.
Noticeable Differences
This graph shows the effect of the implementation of solar generation and battery storage at the WEL site.
The important characteristic difference that can be seen here is that the energy imported from the grid during the day is greatly reduced by the addition of solar generation and the peak energy imported just after 7am has been cut significantly by the utilisation of stored battery energy.
Micro-Grid Benefits
The overall load profile for the building is decreased, meaning that the energy consumption from the main grid power lines is reduced.

The peak energy demand is reduced resulting in cost savings. This is because consumption charges are calculated based on peak demand; lower peak demand = lower cost of power.