Prepare for storms
As the Waikato prepares for stormy weather residents should tie down the trampoline, stay away from downed power lines and do not remove vegetation or objects caught in lines.
That's the message from WEL Networks who has field crews on high alert in preparation for expected heavy rain and high winds which could cause damage to its network.
Residents can help to reduce possible damage to the network by tying down backyard gear to limit the chance of flying objects striking power lines.
For example trampolines and outdoor furniture could become airborne and get tangled in power lines during extremely high winds.
If the wild weather causes power outages residents are asked to be patient as staff make repairs.
We have staff on stand by and will be asking them to work in challenging situations. If their safety is compromised in any way they will make the site safe and return at a later time to complete repairs.
We apologise for the inconvenience this might cause for our residents but the safety of staff will be highest priority at all times.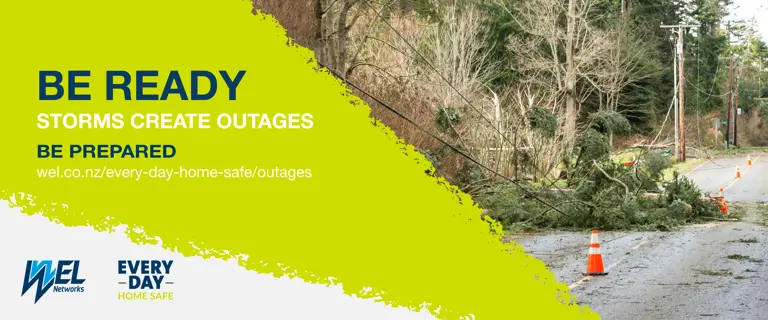 Slow down through work sites
WEL Networks are urging the public to slow down through its work sites to keep their teams safe.
The campaign aims to remind drivers of the importance of adhering to traffic management instructions which are in place to protect the important work that is being done on-site.
Each year 60 per cent of the jobs WEL carries out are roadside across its 6,800km network.
Chief Executive Garth Dibley says the company needs the community's help to bring their teams' home safely.
"Here at WEL, we prioritise the safety of our staff and our community so please slow down through our work sites. It only takes a speeding driver to lose control or a moment's inattention to have tragic consequences. Help us keep our teams safe and follow all traffic management instructions. We want everyone to get home safe, every day."
Between 2015 to 2019, WorkSafe reports that 69 per cent of New Zealand's work-related acute fatalities were linked to vehicles.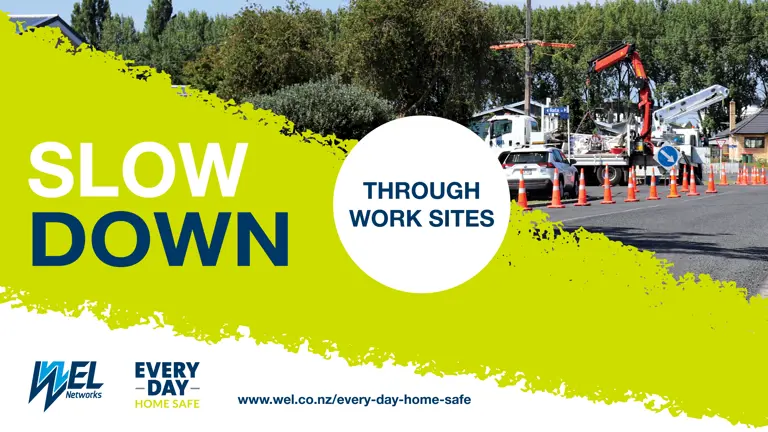 Check for cables before you dig
The sun is shining and it's the perfect time for some landscaping around the section.
But before you dig, WEL Networks is urging you to check where the underground cables might be hiding.
"It's critical to locate cables before you start any excavation work like digging trenches, laying a driveway or erecting a fence," Chief Executive Garth Dibley says.
"Cables are buried within the ground for good reason. If they're disturbed by crushing, bending or splitting they can cause fires, explosions, fatal electric shocks and of course, power outages.
"While digging safety is your responsibility, we're more than happy to help you locate cables, provide advice on excavation and if necessary, oversee any work for your own personal safety and that of the wider community."
For more information visit www.beforeudig.co.nz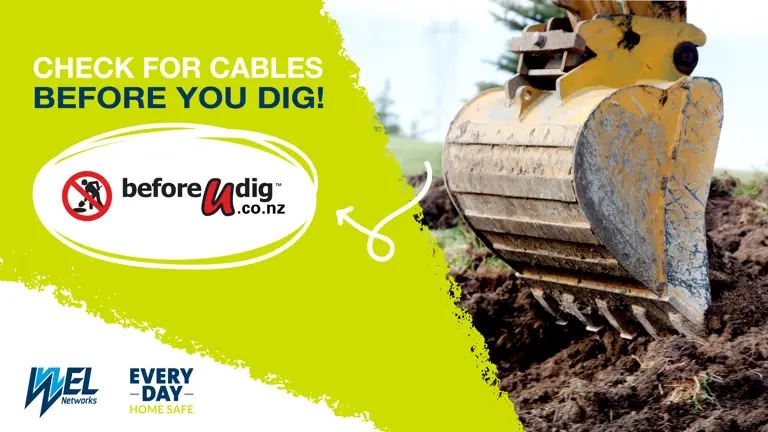 Check the height before moving loads around power lines
Summer trips with the boat? Getting ready for haymaking? WEL Networks says check the height of your load before making a move around power lines.
WEL's Chief Executive, Garth Dibley says "If you're travelling to and from the water, especially on unfamiliar roads, always check the height of your boat mast.
"The same applies for our farming community moving machinery around the farm, getting ready for haymaking season or working in the orchard. You need to know where the power lines are before raising the platforms of cherry pickers and dump truck beds. If your load connects with an overhead power line it can be fatal.
"It's also the perfect time for landscaping around the section. But before you dig, make sure you check where the underground cables might be hiding.
 "It's critical to locate cables before you start any excavation work like digging trenches, laying a driveway or erecting a fence. Before you start visit www.beforeudig.co.nz 
"We want everyone to enjoy their summer activities and to make it home safely, every day."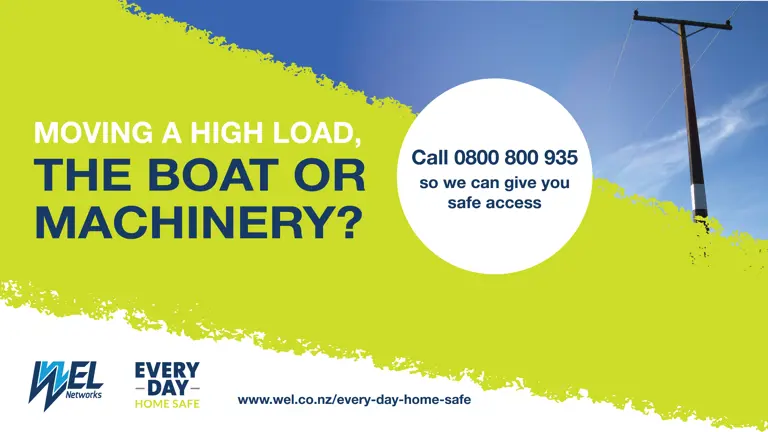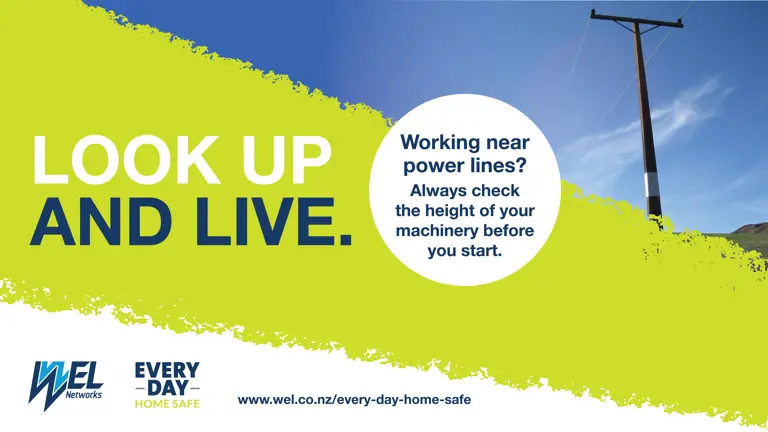 Pillar box safety
WEL Networks are encouraging the public to be careful around pillar boxes.
Pillar boxes play a vital role in getting power from the street to houses by connecting the property's underground electricity cable to WEL's underground network.
Under each pillar box are cables and fuses supplying 400 volts of power.
If a vehicle hits them, even at low speed, the live contents of the box can be exposed causing significant injury, or worse for anyone who comes into contact with it.
Pillar box safety is one of the many public safety campaigns we run as part of our commitment to enhancing the safety leadership role we play within our Waikato communities.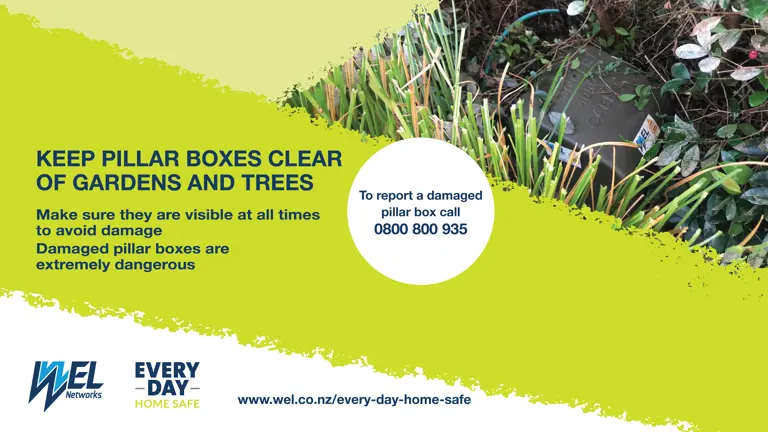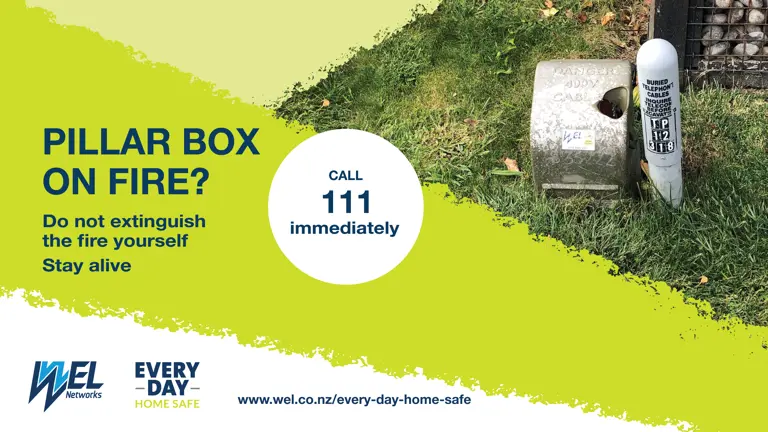 Let the professionals trim your trees
WEL Networks Vegetation Management Supervisor, Jonny Ogden says trees often encroach on overhead power lines if they're not maintained and they currently cause about a fifth of unplanned power outages on the network.

But he says its important residents choose a safety first approach when it comes to managing vegetation on their properties.
"Trees and vegetation hitting or flying into power lines is a real issue during storm events; it's also a major safety hazard. Once a tree gets into contact with a live power line, electrocution is a possibility."
"Many people attempt to trim trees themselves to get their properties ready for the winter weather but we're asking them not to take the risk. To ensure your safety, call WEL Networks and we can arrange your tree trimming or felling for you."
WEL's team of qualified in-house arborists provides vegetation management services to the community - to ensure public safety and minimise disruption in electricity supply to the Waikato.

In an average month, the vegetation management team attends to more than 700 trees around the Waikato.
They also routinely monitor the network to identify any trees that may have an impact on overhead power lines.
"If a tree poses a particular threat to community safety, we provide the property owner with information on tree trimming or removal. If we need to remove the tree urgently we do consult with the property owner and work won't start without their consent."
If you need a tree trimmed or felled, or for more information on our vegetation management services, contact WEL on 0800 800 935.